The scientific school of the department
The scientific school "Chemistry and technology of production of inorganic products, water treatment and utilization of industrial waste" was founded in 1902.
Professor, Doctor of Technical Sciences, Honored Worker of Science and Technology of Ukraine Ihor Astrelin was the scientific leader of the department in 1983-2020. Now Doctor of Technical Sciences Tetiana Dontsova is the scientific leader of the department.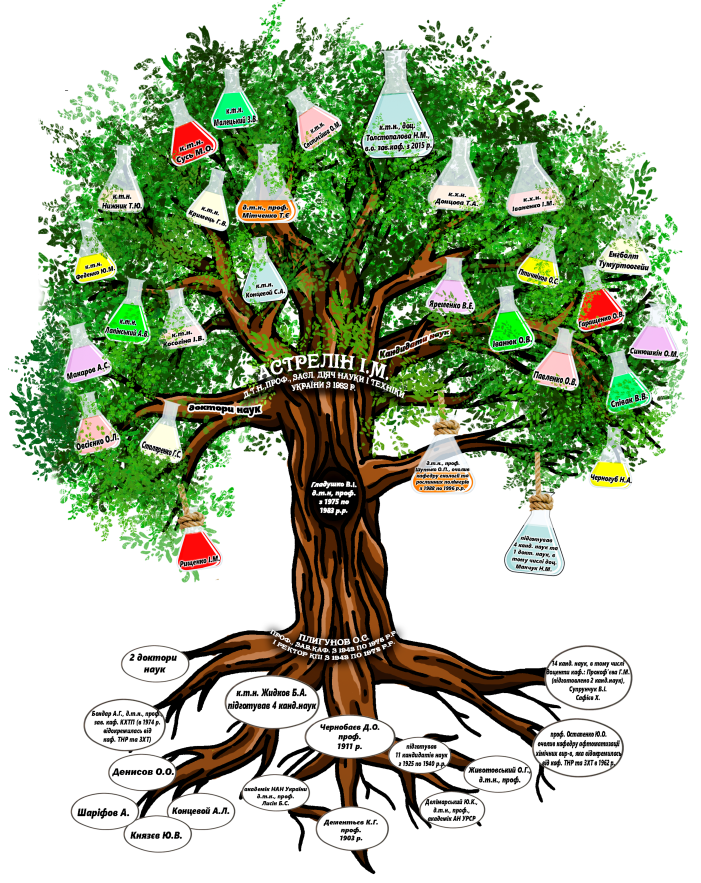 The main scientific directions of the scientific school of the department:
High-temperature processes in chemistry and technology of inorganic substances.
Theory and technology of water treatment and purification of contaminated water. Water Management.
New generation of catalysts for ecological and industrial catalysis.
Purification, regeneration and utilization of secondary materials, gas, sludge and solid industrial waste in the processes of applied ecology.
New inorganic materials on the basis of nanochemistry and synthesized nanoscale precursors.
Non-traditional technologies for the processing of low-quality natural raw materials.
New sorbents, coagulants, flocculants, photo catalysts (theory and practice of synthesis and use in water purification processes).
More than 50 candidates of sciences, 15 doctors of sciences have been trained over the years of existence and development of the scientific school. Outstanding scientists - graduates of the scientific school are 3 academicians of the National Academy of Sciences of Ukraine.
Representatives of the scientific school published 35 monographs, more than 80 textbooks, manuals, 189 patents were obtained.
Over the past 10 years, more than 850 scientific articles have been published by the representatives of the cathedral scientific school, including 30 articles in foreign publications included in the scientific databases Scopus and Web of Science.
There are postgraduate and doctoral programs at the department for two scientific specialties: "Technology of water purification" and "Technology of inorganic substances" and there is a doctoral specialty.
The scientific achievements and developments of the department and its scientific school have been implemented in more than 40 enterprises of Ukraine and foreign industrial firms.
The department and the Faculty of Chemical Technology founded the "double diploma", according to which undergraduate students, post-graduate students and doctorates from 6 months to 2 years undergo training and scientific training and research internships at the universities of France and Norway for the first time in Ukraine (since 2006) . Scientific internships started in research centers and firms, in universities of Switzerland, Denmark, the USA, the Netherlands, Norway, South Korea, China, Italy (more than 40 masters received a double diploma, 5 masters were enrolled in graduate school abroad, 2 defended the same Ph.D )
The successes and scientific achievements of the scientific school of the department were duly appreciated by the international community, which was expressed in the involvement of the department to participate in the many years of scientific European and Eurasian projects "WATER HARMONY", "Erasmus +" (project countries: Germany, Poland, Ukraine, Norway, Belarus , Moldova, China, Kazakhstan, Sri Lanka, Tajikistan) with a budget of more than 10 million Euros. In the framework of these projects, the Department has transferred precision scientific equipment worth 100,000 Euros.