08.09.2020. CONGRATULATIONS TO THE GRADUATE OF OUR DEPARTMENT
The Department of TIS, WT and GCT sincerely congratulates its graduate Anastasiia Konovalova on the successful completion of the Ph.D. at the Korea Institute of Science and Technology (KIST) and wishes further success in science.

Additionally, while studying at KIST Anastasiia Konovalova also received the Academic Excellence Award for an outstanding academic and research activity.
21.05.2020. COMPLETION OF THE SEMESTER IN QUARANTINE CONDITIONS
After May 22, the quarantine will be somewhat eased, but not lifted. We will have to complete this semester remotely through the quarantine.

Order 7/86 of May 8, 2020 approved the Provisional regulations for semester control in remote mode (Appendix 1) and the Provisional regulations for the organization and defences of bachelor's theses (projects)/master's theses and final exams (Appendix 2).

Remember that quarantine is not a vacation, so don't forget about training.

Follow the recommendations of the Ministry of Health to ensure the safety of yourself and your relatives.
04.02.2020. Free Access to Wiley Journals
From February 1 to April 30 Igor Sikorsky Kyiv Polytechnic Institute will have test free access to Wiley Journals.

John Wiley & Sons, commonly known as Wiley, is an American multinational publishing company founded in 1807 that focuses on academic publishing and instructional materials.

The company produces books, journals, and encyclopedias, in print and electronically, as well as online products and services, training materials, and educational materials for undergraduate, graduate, and continuing education students.

Wiley collaborates with authors, societies, libraries, and other members of the research community to generate, communicate, and enable access to the scientific and scholarly insights that are helping to solve some of the world's biggest challenges.
04.11.2019. Belt and Road Teenager Maker Camp & Teacher Workshop
Students of CTF traditionally display their talents not only in chemistry but also in many other fields. Second year student of our department Anna Gusak got the award «Best maker» at ІІІ Belt and Road Teenager Maker Camp & Teacher Workshop (October 24-30, China).

233 people from 33 countries participated in the project. The team from Ukraine consisted of 5 participants, one of which was a student of our department Gusak Anna.

06.06.2019. Delivery of Masters Diplomas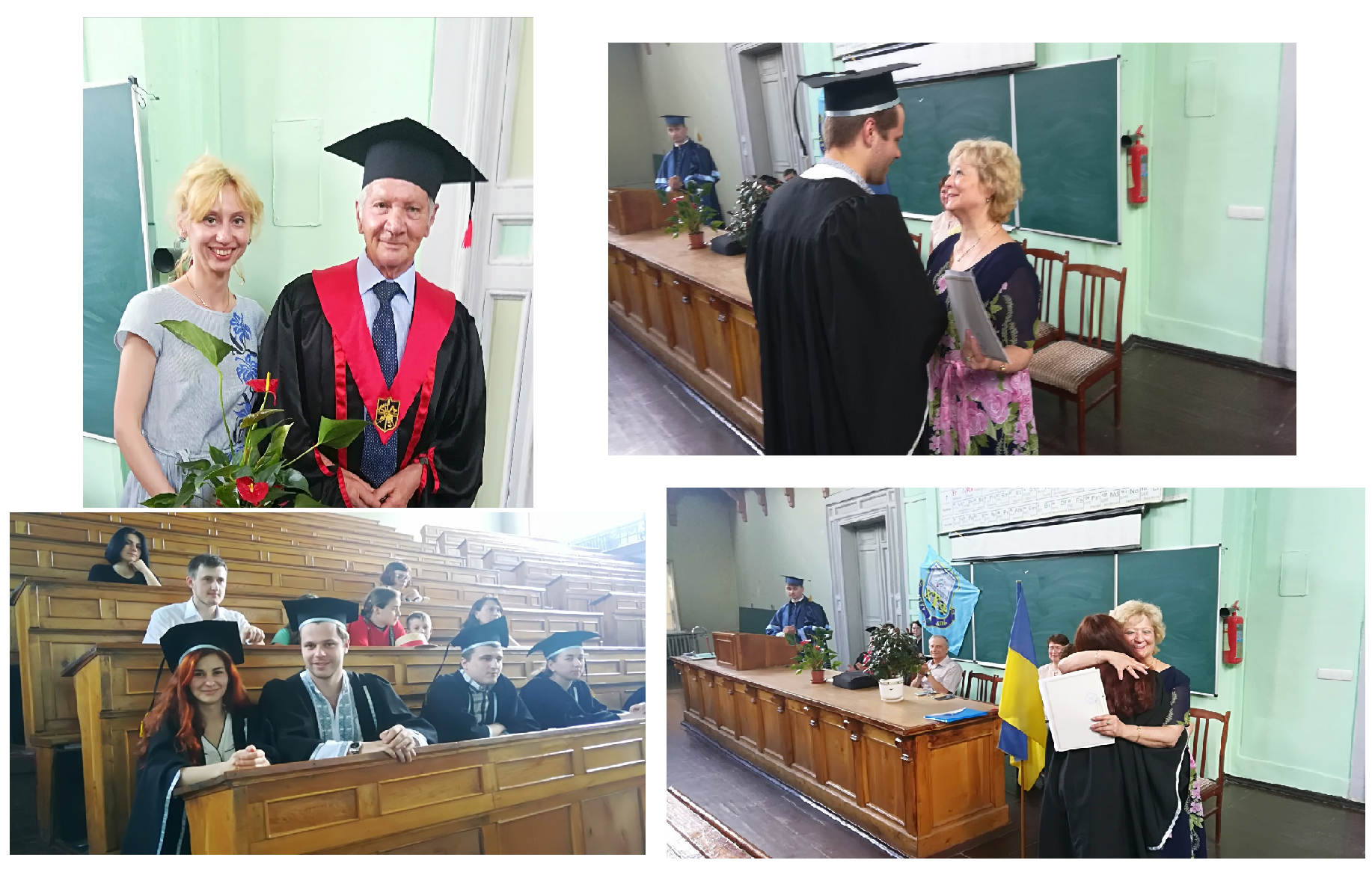 02.04.2019. Attention! Vacancy from Ecosoft!
The international production company Ecosoft, specializing in the production of water treatment and purification solutions, announces a vacancy for an Engineer for quality.
25.03.2019. Congratulations to Professor Astrelin I.M.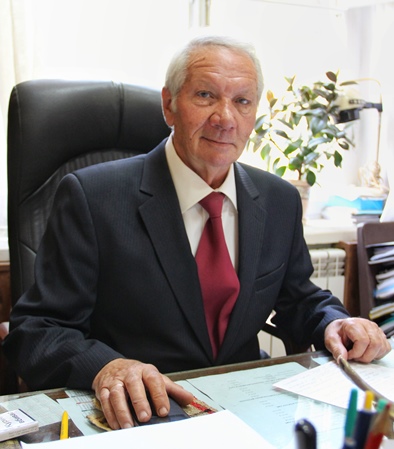 Congratulations to Professor Astrelin I.M. for receiving of the "Award of the Cabinet of Ministers of Ukraine for the development and implementation of innovative technologies" for collective work "Development and introduction of innovative technology for the production of environmentally friendly agro-efficient mineral fertilizers on the basis of new types of phosphate raw materials" in conjunction with "Sumykhimprom" (co-authors: Vakal S.V., Volkov V.M., Dudka V.O., Karpovich E.O., Maksimenko B.O., Plyatsuk L.D., Skop S.V., Shkarupoy S.P., Shchipanovsky O.O.).
12.02.19 Open Day of The Faculty of Chemical Technology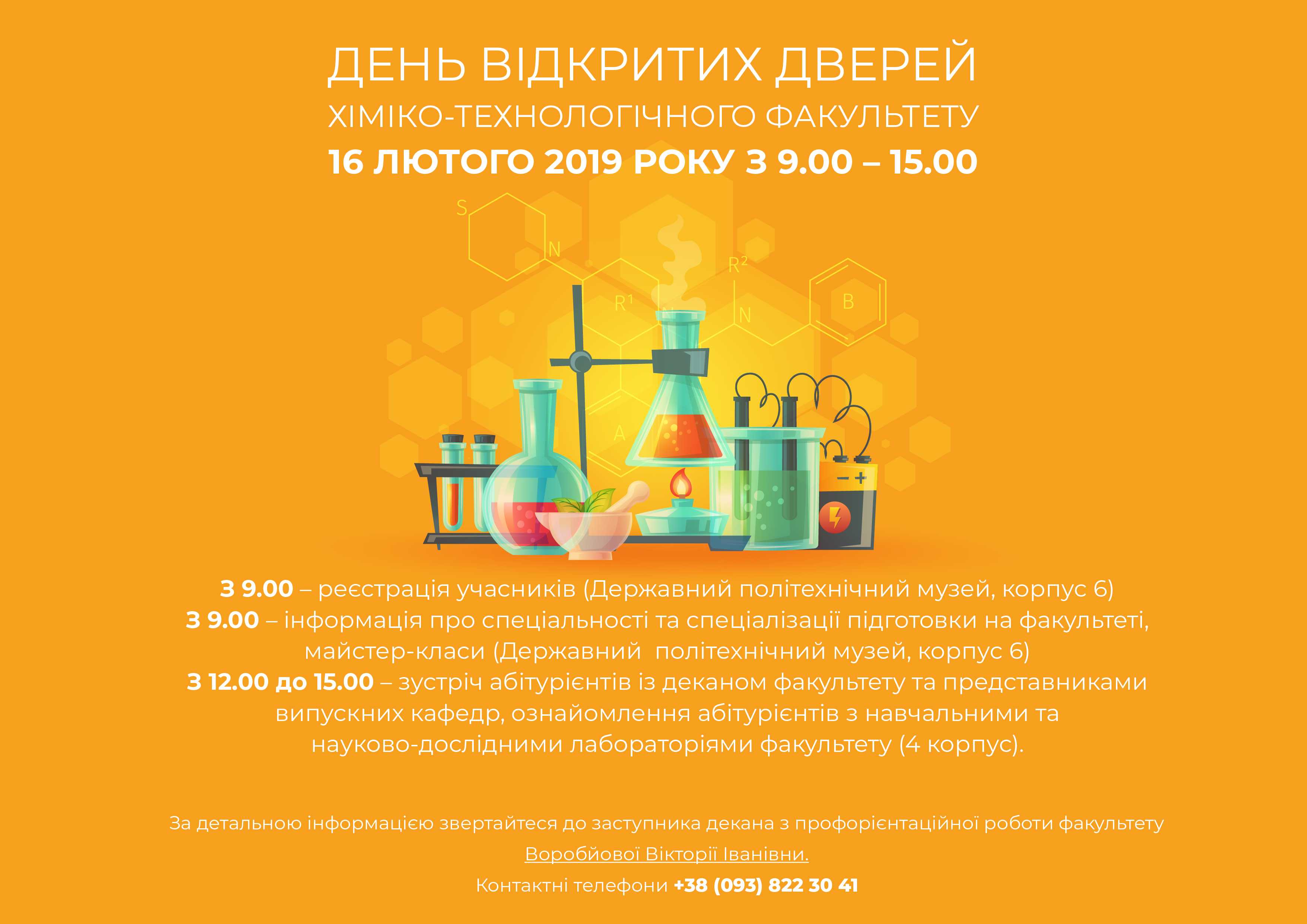 05.02.19 The Faculty of Chemical Technology invites entrants to take part in the All-Ukrainian Olympiads of the Igor Sikorsky Kyiv Polytechnic Institute on chemistry and biology.
20.12.18 The defense of master's works has firstly taken place at The Department
Students of the group ХН-71 мп, internshiping at the University of Southern Korea, Sergiichuk Dmytro and Gerchenova Yuliia, have defensed master's works remotely.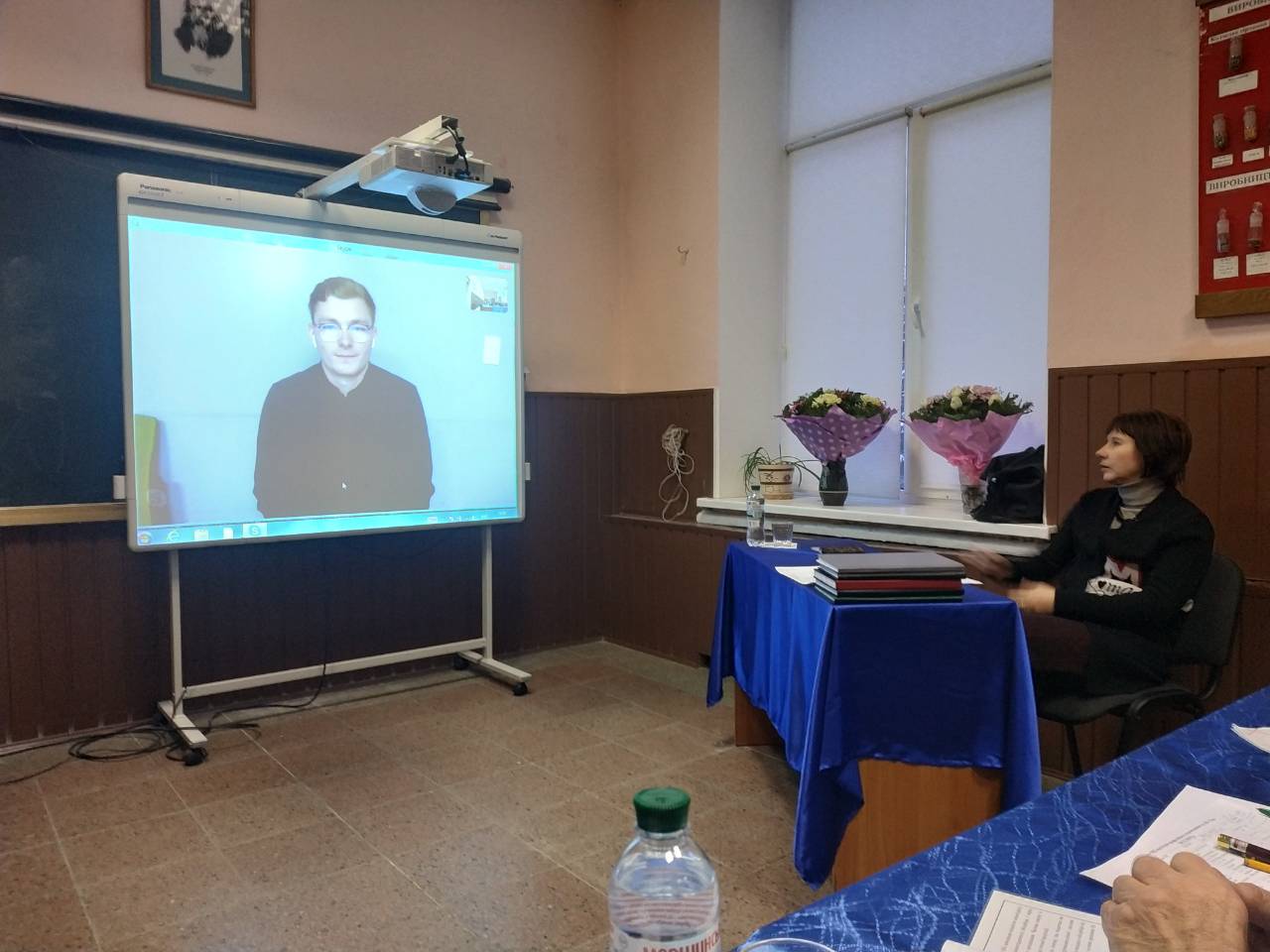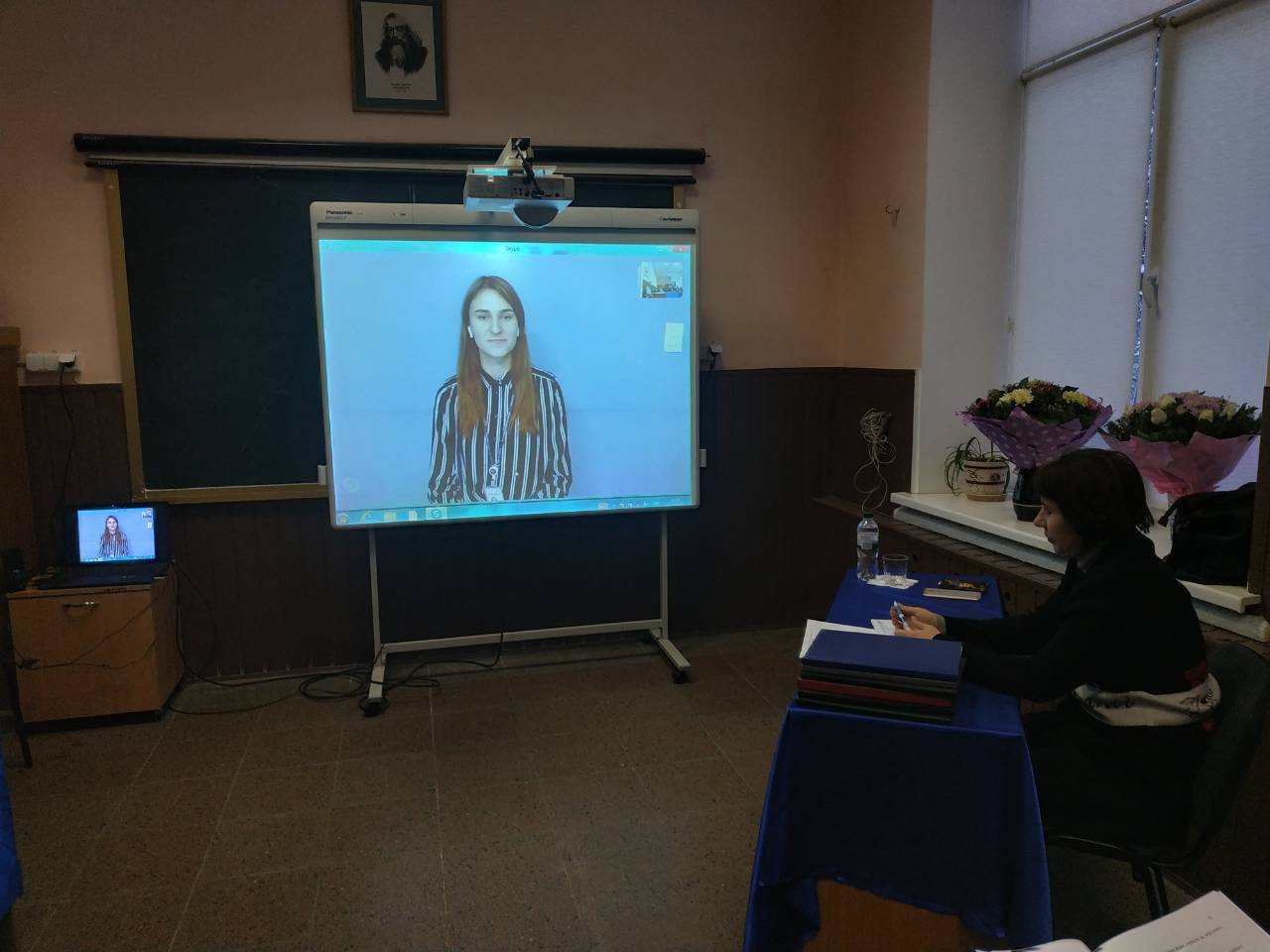 06.12.18 Announcement about the beginning of reception of works for the Contest "Ukrainian Junior Water Prize 2019" - The National Stage of International Contest "Stockholm Junior Water Prize"!
23.10.18 CONGRATULATIONS TO OUR EMPLOYEES KOSOGINA IRINA AND KYRII SVITLANA WITH A CHAKATON "Circular Economy Hackathon 2018"

12.10.2018 ATTENTION STUDENTS! VACANCIES FROM INTERNATIONAL COMPANY ECOSOFT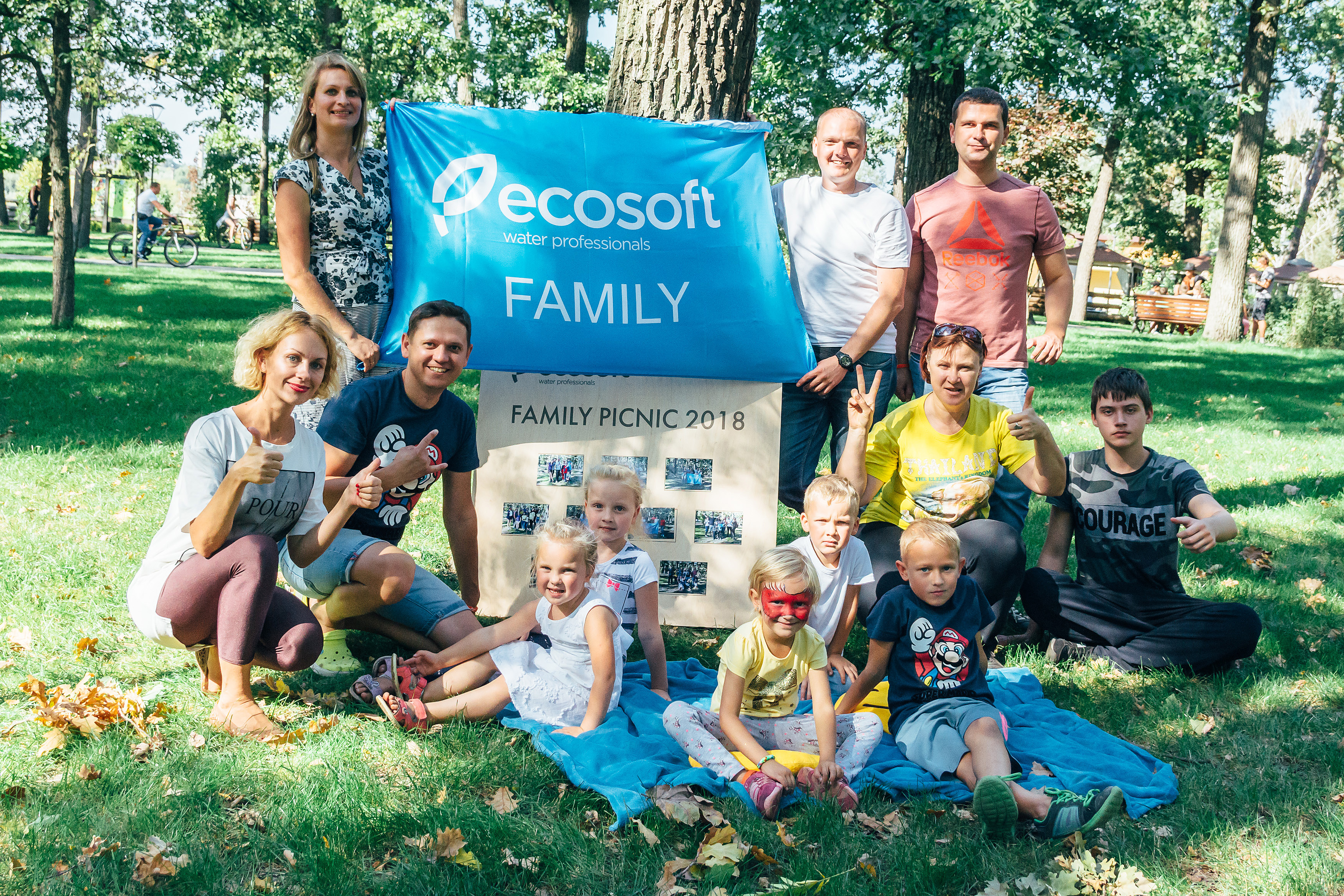 For more details click here
03.10.2018 ATTENTION!!! CONTEST FOR UKRAINIAN STUDENTS FOR MEMBERSHIP IN SUMMERSCHOOL (PROJECT WATER HARMONY EURASIA II)
05.06.2018 ATTENTION! FOR ENTRANTS FOR THE FIRST YEAR (MASTERS)!
Time for qualification exam and consultation
Qualification exam: on july 12th, 2018 at 11:00 aud. #150-4
Consultation: on july 11th, 2018 at 11:00 aud. #150-4
29.05.2018 Dear collegues! Attension! Begin to fill out the rating!
From May 29, 2018, grant access to the program for determining the rating of scientific and pedagogical workers for 2018/2019 year is opened.
You can download the file from "Кампус" section
"МетодичнеЗабезпечення-Загальноуніверситетські - Інструкція - "Інструкція користувача підсистема «Аналітично-статистичного аналізу роботи професорсько-викладацького складу Університету".